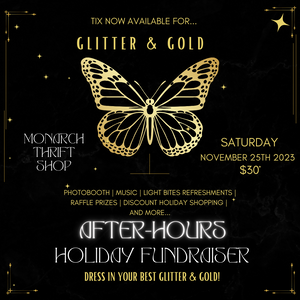 Glitter & Gold After-Hours at Monarch!
Glitter & Gold
An evening of community, joy, vibrancy and...glitzy outfits!
Join us for a special after-hours event at Monarch Thrift Shop as we kickoff the holiday season with music, raffles, photobooth, holiday discount shopping and yes...glitter & gold!
Date: Saturday, November 25th 2023
Time: 6p-9p
Place: Monarch Thrift Shop, 2875 N. Milwaukee Avenue
Your ticket purchase will help support the work of Monarch Thrift Shop in providing job training to those facing barriers to employment.