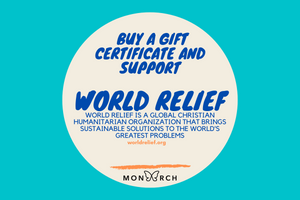 GIFT CERTIFICATE - WORLD RELIEF
DOUBLE YOUR GIFT TODAY!
By purchasing THIS gift certificate, the full amount will go to World Relief for use with their clients, in order for them to shop clothing, accessories, home decor, and furniture at Monarch Thrift Shop.
Please note that even though the confirmation indicates shipping - your certificate will go directly to World Relief and will NOT be shipped to you.
THANK YOU FOR YOUR SUPPORT!
 Go to https://worldrelief.org to learn more.
---
We Also Recommend