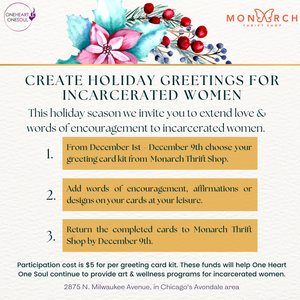 Greeting Cards for Incarcerated Women: In-store pick up
Continues again December 2024.
This holiday season we invite you to extend love & words of encouragement to incarcerated women.
Participation cost is $5 for per greeting card kit. These funds will help One Heart One Soul continue to provide art & wellness programs for incarcerated women.
1. From December 1st - December 9th choose your greeting card kit from Monarch Thrift Shop.
2. Add words of encouragement, affirmations or designs on your cards at your leisure.
3. Return the completed cards to Monarch Thrift Shop by December 9th.
---
We Also Recommend